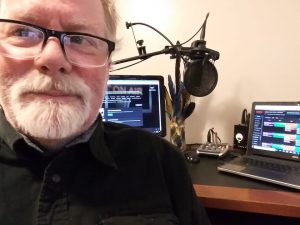 Michael Kiger pictured left in the Bird Talk Radio studio Kansas City. 
Michael has hosted, engineered, produced and published Bird Talk Radio pre-recorded LIVE aviculture talk radio shows five years.
Mr Kiger is a Webmaster 25 years, WordPress & Shopify Developer currently enrolled at Devry University working on a programming degree & Associates Information Technology including Python, Ruby and Shopify Liquid programming & web development coding languages.
Michael is the lead developer at Avian Web Hosting and UpWork Freelancer.
"Wings of Love, Inc. has been utilizing Michael for our WordPress website,
SEO and Google Adwords Management work the past several months.
We recommend him highly, as his knowledge base on Adwords, website design and development is extensive.
We have also known him personally for several years and know him to be an honest man."